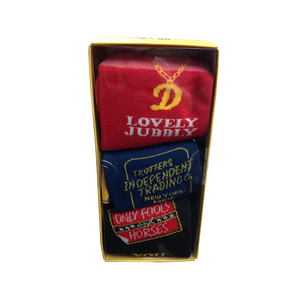 Siop Y Post
Trotters themed socks
Regular price
£9.99
£0.00
Unit price
per
Tax included.
Trotters themed socks
Only fools and horses
3 pairs of themed socks
"Un diwrnod Rodney, byddwn yn filiwnyddion"
ooo0ooo
Trotters 
sanau thema
Only fools and horses
3 pâr o sanau thema
"One day Rodney, we'll be millionaires" 
ooo0ooo
AI generated description
These delightful socks feature motifs inspired by the beloved British television show, Only Fools and Horses. These socks are designed for long-lasting comfort and wearability, so you can enjoy them for seasons to come.
---